MEET THE ZENLIFE YTT FACULTY
Dena Leibowitz,
Founder of ZenLife
MS LCADC, CHT, 200 E-RYT, 500 RYT
Licensed Psychotherapist, Hypnotherapist, Yoga Instructor, Meditation Facilitator, LIGHT WORKER, proud mom, and perpetual student of Life .
Her journey developing healing programs began in 1996, introducing cutting edge ideas to the very western psychology field. Over time Dena integrated more Eastern approaches to treat depression, anxiety, and Addiction. Her hard work, passion for learning and love of Yoga, Reiki & Kabbalah fuel her soul. Dena lives a spirit driven life on and off her mat. She believes that living compassionately and courageously, and allowing the journey of self discovery, is the best self-investment one can do. Dena's work and home life are grounded in the same loving principles. She loves her students, clients, friends, 3 beautiful daughters, golden doodle, husband and parents who are all in Maryland.
Susan Weis-Bohlen Arthur, Ayurvedist, MeditationTeacher
Susan Weis-Bohlen Arthur, Ayurvedist, Meditation Teacher
Susan Weis-Bohlen is the former owner of breathe books and breathe bookstore café in Hampden. After 10 years of running the shop, Susan decided to close her business in 2014 to focus her energies full-time on her Ayurvedic practice. Susan received her first certification in Ayurveda from the Chopra Center for Wellbeing in 2008. Since then she has studied with many teachers in the US and India, including Amadea Morningstar and Dr. Vasant Lad. She has certifications in Marma Therapy and Pulse Reading and Ayurvedic cooking and is a speaker on Ayurveda at conferences, businesses and Universities. Susan has also taught Ayurveda to medical students at the University of Maryland School of Medicine. In addition Susan has been teaching meditation since 2009. She also leads retreats and international Sacred Site tours which incorporate yoga, meditation and Ayurveda, primarily to India and Bhutan. She has participated in many Yoga Teacher Trainings, showing prospective teachers how they can use this ancient Indian health practice to benefit themselves and their students. Susan's book, Ayurveda: A Beginner's Guide, was published by Althea Press, in February 2018. She lives in the woods Reisterstown,Maryland, with her husband Larry and three dogs Ella, Shadow and Joonie, a rescue from India.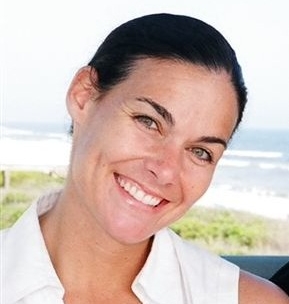 Katie Thorworth E-500 RYT, YACEP Licensed Physical Therapist Assistant
Katie Thorworth is an E-500 RYT, YACEP and a Licensed Physical Therapist Assistant .
She started teaching yoga in 2000, and has taught thousands of classes and helped launch hundreds of yogis' teaching careers over the years. She has taught in many studios, and is in high demand for private yoga sessions. She has participated in several 200/ 500hr yoga teacher training programs, including Yogaworks, MD, University of Maryland, Gogo Guru and Yoga Tree and specializes in the anatomy of movement.
Katie is well known in the Baltimore and DC complementary and alternative medicine community; she attends numerous trainings and seminars every year and brings the best of these modalities to her yoga instruction. What makes Katie's teaching so unique and sought-after is her understanding of how yoga and physical therapy share many therapeutic principles. She finds joy in creating functional fitness programs through yoga that address individual-specific training and rehabilitation goals. Treating injured athletes, highly involved neurological patients, and Baby Boomers facing the challenges of aging alike – Katie is adept at bridging the gap between yoga and integrative medicine. A gifted teacher, she excels at explaining health and healing in a way that is accessible, enjoyable, and has the benefit of being rooted in the best that contemporary research has to offer. She was recently published in the Yogic Way magazine.
Katie believes in putting the responsibility and power of one's health back into a person's own hands. Skilled at functional anatomy, she will teach you how not only to do asana on the mat, but to bring healthy movement to every aspect of life.
Heather Keller (RN, BSN, eRYT500, CHTP) - Wellness Coach
Heather Keller (RN, BSN, eRYT500, CHTP) - Wellness Coach
Heather lives by her core message that when she trusts in magic, there is grace! This is the experience she is dedicated to share in her work with teaching others to tap into their divine source of light within. She currently tours the US working in healthcare while developing and caring for others in their own spiritual paths providing coaching and workshops for breakthrough results in living a life full of grace!
She has spent her professional career bridging the gap between holistic and allopathic methods of healing. She has assisted in initiating and growing integrative programs to provide people with the direct experience of their own healing capacity. Her personal development includes holistic nursing, yoga and energy therapy, ontological coaching, not to mention the best teachings of overcoming everyday life triumphs.
Carlos Mendez
ASANA, INVERSION, ARM BALANCE
Carlos Mendez is one of our beloved partners and teacher. Enjoy his humble presence and profound knowledge of Yoga.
Carlos shares simple yet highly effective techniques for entering into your handstand, headstands and other inversions with attention, breath and confidence. The handstand techniques go back to the early 1900's when Carlos' teacher Kumar Pallana began his practice at the age of 6 in a small village outside of Mumbai, India. Kumar quickly learned the techniques and was known as the master of the handstands by the age of 13. He went on to become one of the top acrobatic entertainers in the world and performed at the Moulin Rouge and other stages around the world. He was a regular featured guest on the Ed Sullivan Show, You Asked For It, Captain Kangaroo, The Mickey Mouse Club, and much more. He also performed at Frank Sinatra's birthday and one of Sammy Davis Jr.'s weddings.Most recently Kumar was featured in several films including Wes Anderson's "Bottlerocket", Steven Spielberg's "The Terminal" and many others. His entire life Kumar brought his yogic practices into the mix as he inspired others with his teachings, stories, and techniques. Kumar passed away at the age of 94. Carlos Mendez has taught his handstand/yoga workshops in over 10 countries around the world and has been teaching for over 12 years. His yoga journey began after he quit his job one day with no plans to see what this "yoga" stuff was about. That road lead him down an interesting path that included yoga, juggling, travel, and handstands.
Chris Jameson
Anatomy Teacher
Susan Selckman Floccari
YIN YOGA
check her class schedule at www.updog.fitness
or FB @UpDogBaltimore
Dave Martin
Meditation Teacher, Gong Whisperer
dave@mnmlife.com
davemartin9284@hotmail.com
Become a health Partner
If you would like to partner with us, fill out the form below and one of our staff members will get back to you.